Sweep, also known as a liquidity grab or a stop hunt is a term used to describe a small break of structure with the intention to liquidate and grab extra liquidity in order to push the price in the opposite direction.
BoS, short for a break of structure is a term used to describe a strong break of structure with the idea of further continuation in the current market structure.
Keep in mind a sweep on a higher timeframe will look like a break of structure on a smaller timeframe. Let me show you an example.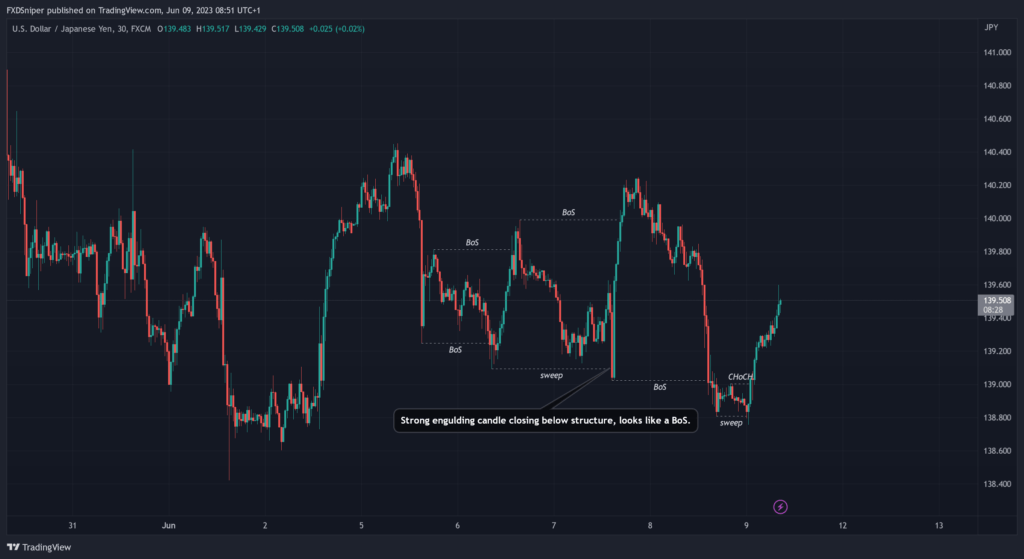 Going from 5m to 1h timeframe each chart is showing this point as a break of structure but as soon as you look at a 2h or 4h chart all you see is a wick sweeping the previous low and strongly pushing the price higher. Imagine the number of breakout traders who took shorts at that point because they saw a break of structure.
So how do you tell the difference between the two? Well you simply don't until it happens, but we're not breakout traders here, we're smarter than that.
Sweeps
Sweeps are meant to take liquidity from the early buyers/sellers to push price in the opposite direction. This happens because the large money traders need to manipulate the market and force it to draw the extra liquidity into the market to fill their orders. If you want to learn more about identifying liquidity check out my last article.
There is simply no way to tell or predict if the market will sweep the previous structure until it happens but if you know it happens most of the time you can anticipate it and prepare your trade accordingly. If you notice price is ranging or slowing down approaching a zone you can simply wait for a sweep of a higher timeframe and find your entry on a smaller timeframe.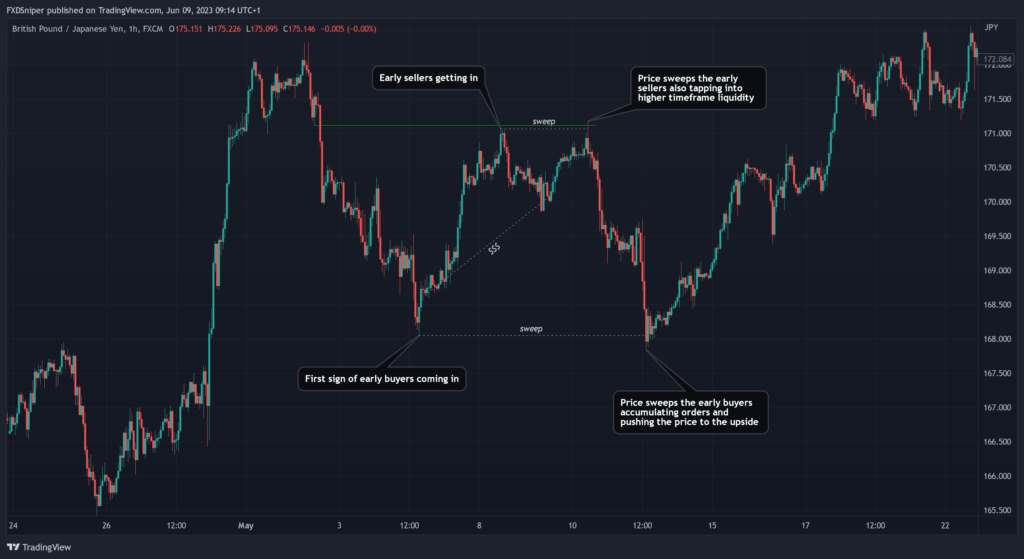 This is the GBP/JPY set up I took last month and have been holding since. Most of you who've been following know about this trade but you probably forgot I was also shorting this entire move down after the sweep, although I was already short before the sweep as price was going for that second retest. I knew there was a possibility of it happening because there was an unmitigated supply zone just above it so instead of closing my trades at a loss when price swept the high I added extra shorts and I closed all of them 1h candle before it swept the low.
Of course price could have just continued up and blown my account but markets don't move like that very often, there is always a lot of "noise" and manipulation in between especially when the market is trending because the big money is trying to force extra liquidity into the market and take out the weak and early players.
At that time I had no idea price was gonna go up over 700 pips(at the time of this article being written). But I saw the price had broken the previous low and it stopped, it consolidated for a while and then I saw a change of character on a 1 min timeframe, that's where I decided to start buying. But still I had no idea it was gonna go up this much I simply followed the structure and bought on every major pullback.
Break of Structure
Break of structure happens during trending markets, either long term or short term, the concept stays the same. There isn't much to explain, it's the most basic concept of market structure. I'm sure every single one of you heard the term "trade with the trend", just buy the pullback. Yet most trend traders still lose money, do you know why? Because markets are manipulated.
Instead of buying the pullback in a trend, buy the sweep. You will make a fortune.
Look at my GJ example below.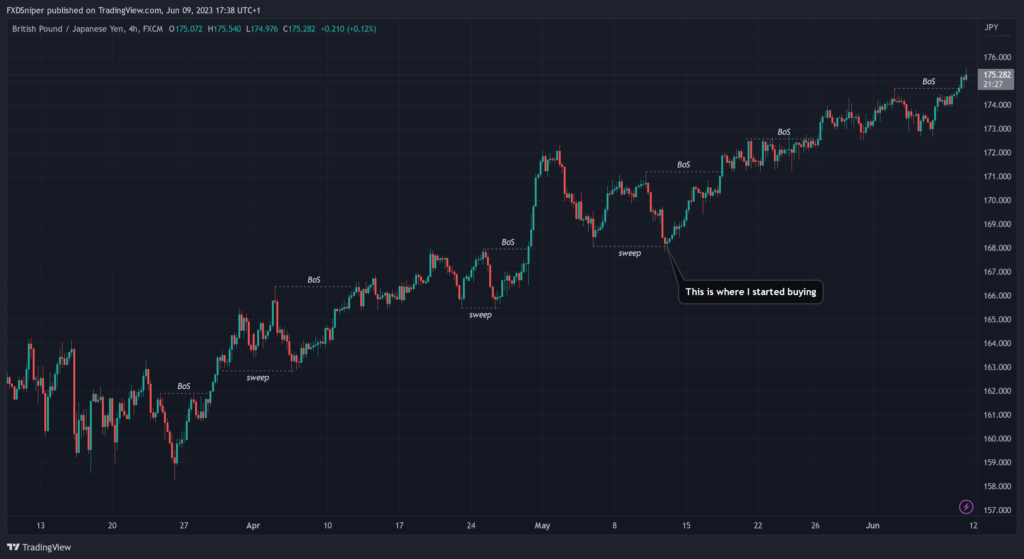 Do you notice how every major pullback swept the previous low where most trend traders would have their stop losses placed? That's why you gotta stay ahead of the game because no matter what strategy you trade the big player will always take out both sides of the market before they push the price in their desired direction.
Join the best flip broker

The only
regulated

broker with up to

1:2000 leverage
Spreads starting from
0.0 pips
Min deposit
$10

| Trade from

0.001 lots
Trade Forex, Stocks and Cryptocurrencies
Up to
60% sign up bonus
To Summarise
Sweeps (liquidity grabs) are designed to force extra liquidity into the markets to push price in the oppsite direction.
BoS is used to desribe breaks of structure during a trend.
Sweeps on a higher timeframe will look like a BoS on a smaller timeframe and a break.
Wait for a sweep before buying a pullback during a trend.